Singaporean Jarsonn Chau Meets Governor of Rio Grande Do Norte Robinson Faria
Ritz-G5 Director, Jarsonn Chua, attended a meeting with the governor of Rio Grande do Norte, Robinson Faria along with the Secretary of State for Economic Development, Flávio Azevedo.
The meeting was called to express interest in further investment opportunities in Rio Grande do Norte state, as well as to discuss possible plans for the installation of a hotel at the Greater Natal International Airport.
Multi award-winning developer, Ritz-G5 based in the capital of Rio Grande do Norte, Natal,
already has four major condominium projects and three developments in the hotel sector.

According to Ritz-G5's Marketing Director, Fernando Lessa, the Brazilian developer is also looking to expand into other states.
During the meeting, Ritz-G5 director Jarsonn Chau said that the Group plans to make more investments in the region, which proved to be popular among Asian investors.
Governor Faria is pleased with the recent interest in the region shown by overseas investors. He highlighted the incentives offered to companies wishing to settle in Rio Grande do Norte as well as the recent reduction of aviation fuel fees, benefiting airlines operating in the state.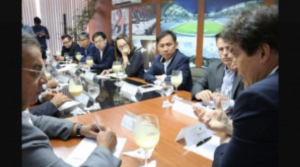 According to the governor, it favoured the addition of three new international flights from the beginning of his administration. Mr Faria also highlighted the Industrial Development Support Programme and the greater attention paid to environmental concessions.
Governor Robinson Faria said,
"In one year, we delivered 5,000 licenses - the equivalent to the previous five years. The state today has a strong legal certainty for investors and we are happy to see developers such as Ritz-G5 working together on our mutual entrepreneurial vision. One of our main missions is to strengthen the industry, hotel and real estate sector and ensure stable employment for the population of the state."
In response, Mr Jarsonn Chua expressed his confidence in the governor and his legislations,
"I knew the governor and I was impressed with the attention he shows towards the economic development. This kind of support is very important to investors, particularly the legal certainty. It is essential for the entrepreneur to have confidence in an investment."
For more information on Ritz-G5 developments, contact the team on +44 (0) 207 183 7565 or visit www.ritz-g5.com